WATER AND MORE
No paper without water
Water plays a central role in papermaking. It is the only medium in which the pulp is processed and the sheet formation takes place. It also serves the papermaker as a means of transport for fiber and auxiliaries during production.
A special feature of the process is that the required water is not used but needed. Latest technologies reduce the so-called "dirt load" and guarantee efficient cleaning.
Environmental protection occupies a dominant position in our entrepreneurial activities. For decades, LENK Paper has had a mechanical wastewater treatment plant, which ensures that the suspended matter is largely free. After the subsequent biological aftertreatment in the regional sewage treatment plant Achertal clean water is returned to the trout-rich Acher.
Water Cycle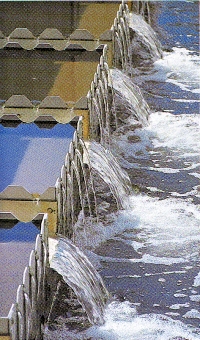 Sustainable cleanliness through closed circuits